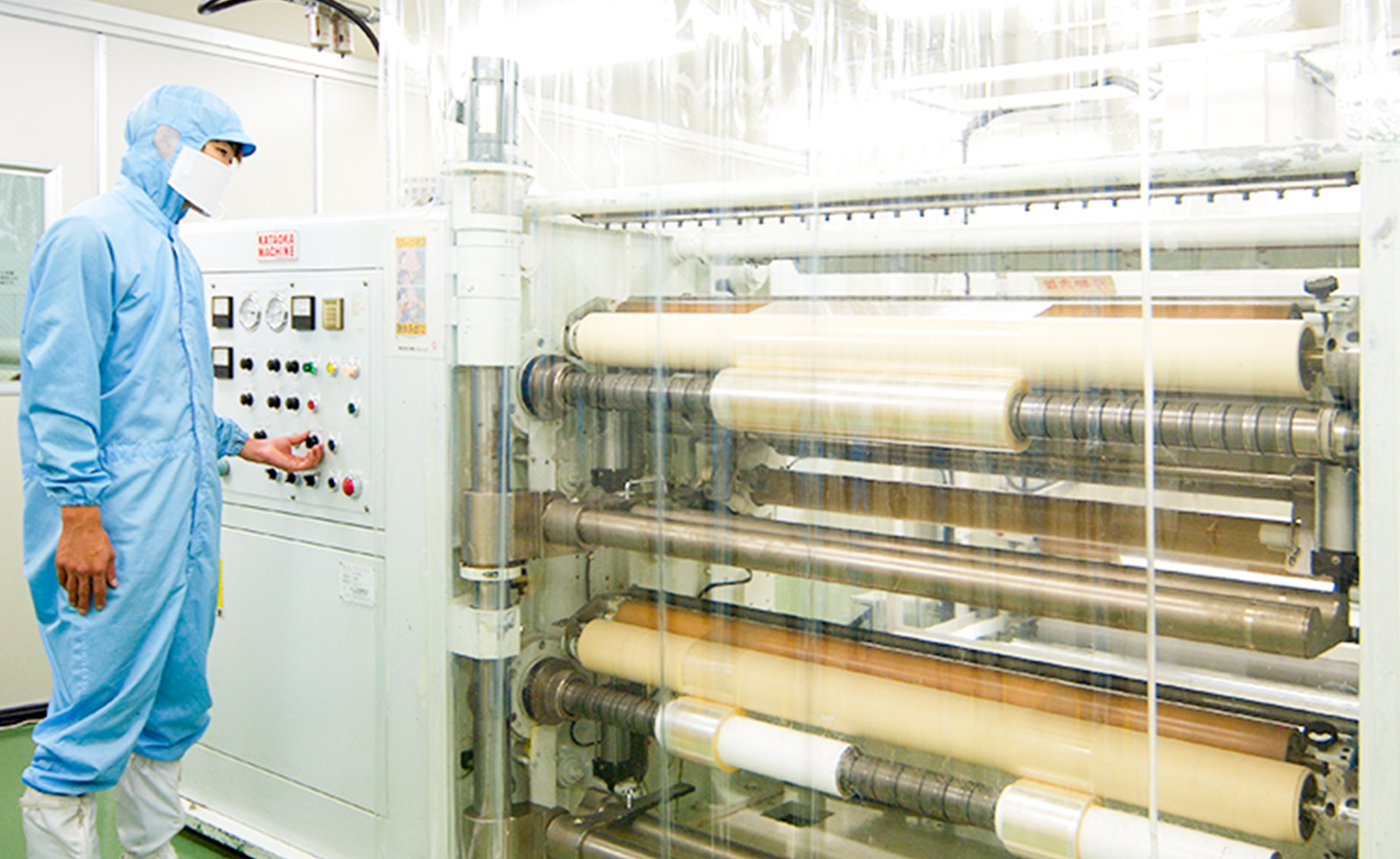 Research and Development
We continue on a daily basis to conduct research and development of fundamental technologies to add customer requests as functionality and enhance product value. We provide total solutions to meet customer needs by aiming for the creation of new values and markets and for unique product development. Through the combination of various functions and processing techniques, the possibilities of product development spread without limit, and to productize that development, the sales, technology and manufacturing teams are united in continuing to take up the challenge each day.
Development Approach
R&D activities to turn customers into Sumiron fans
1

Development tailored to needs

We develop adhesive products to match the customer requirements and materials.
2

Prompt Proposals

We make prompt proposals and offers of evaluation samples providing quality and performance matching customer requirements by utilizing test coaters.
3

Customer Support

While providing high-quality products, we will continue to support improvements in customers' quality and productivity.
Facilities and Equipment 01
Laser
microscope
This requires no preprocessing and has a high resolution with a maximum magnification of 18,000 times. Three-dimensional data over the entire observed field of view can be acquired with a laser, enabling highly precise and varied three-dimensional analysis.
Facilities and Equipment 02
Fourier Transform Infrared
Spectrophotometer
(FT-IR)
A device for analyzing the composition of matter using infrared. It is possible to identify matter and analyze bonding states.
Facilities and Equipment 03
Gel Permeation
Chromatography
(GPC)
A device that measures the molecular weight of a substance and its distribution by separating a polymer sample through a special column. It is possible to analyze the properties that control molecular weight.
Facilities and Equipment 04
Experimental Table
Coating Machine
This equipment uses applicators to automatically apply ink, paint, adhesive and emulsion resin to film, etc. By coating under a constant load and constant speed, an uneven coat and individual difference can be eliminated, and a predetermined film thickness can be achieved.
Facilities and Equipment 05
Experimental UV
Irradiation Equipment
This is a conveyor transport-style irradiation device that irradiates light at the optimal UV wavelength in handling at a constant speed paint, ink, resist, adhesive and resin, etc., dried and hardened by UV radiation.
Facilities and Equipment 06
Lab Coater
It is possible to form a tape by coating an adhesive on various materials, Because it corresponds to film width up to 500 mm, it can lead to small quantity production from test coating. Because of the compact coater, it also supports test coating at several meters and several tens of meters.

Outline of coating machine specification

| | |
| --- | --- |
| 1. Substrate width | Maximum 500 mm |
| 2. Base material thickness | 20〜250μm |
| 3. Type of base material | PET、PP、PE、PI etc Various films |